So late last summer, I recently discovered on YouTube the world of makeup. Wow, I've honestly been such a dunce. No wonder, my makeup wear lasts for like an hour at best. And, so now, I am actually trying to learn how to apply makeup correctly!
Anyway, here's my very first ACTUAL haul from eyeslipsface.com (E.L.F.). A majority of their products are a dollar, and with the exception of the shipping price and service it's not that bad at all. The have mineral product wihch are about $3-5 and a new studio line.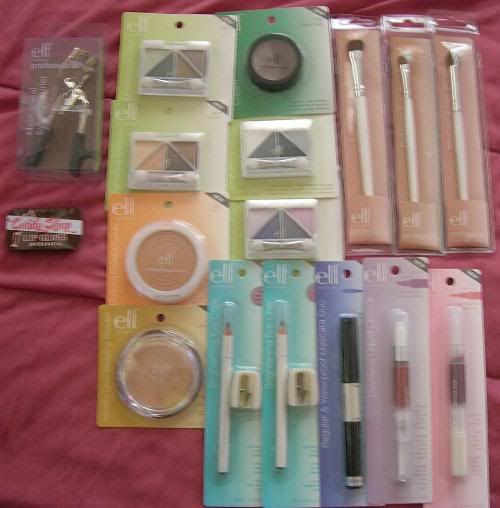 Pictured: Brightening Eye Liner in Black and Ash, Brigntening Eye Color in Butternut, Drama, Silver Lining, and Ivy. Clarifying Pressed Powder in Tone 2. Earth & Water Mascara Duo in Noire, Blending Eye Brush, Defining Eye Brush, Hypershine Gloss in Sugar Plum, New Moisture Care Lip Color in Brownie Points, Healthy Glow Bronzing Powder in Luminance, and the Eyeshadow Duo in Mocha Swirl. Also got a free gift for recommending 3 friends and got a Candy Shop Liptin in Mocha Maniac
My first haul from Big Lots. What amazing prices they've got over there. You can probably see the prices on the stickers cause I hadn't removed them yet when I took the picture. You can also see a Physician Formula shadow that I grabbed at CVS. They were having a 40% off of all PF cosmetics. So it came out to be $4.79. I love it a lot because you can wear it wet or dry.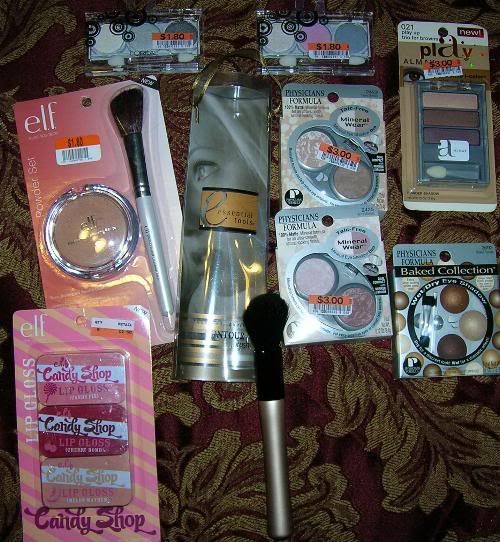 Pictured: Loreal's Wear Infinite in Fortune's Pink and Galaxy Grey ($1.80 each), Almay Intense i-color powder shadow in trio for browns 201 ($3), Physician's Formula Mineral Wear Duo Eye Shadow in Taupe Mineral and Berry Minerals (#3 each), E.L.F. Healthy Glow Bronzing Powder in Sun Kissed which comes with a Bronzing Brush ($1.80), E.L.F. Candy Shop Tin 3-pack in Candy Fix, Melon Mayhem and Cherry Bomb ($2.00), and Essential Tool Contour Brush ($1). Also, Physician's Formula Baked Collection in Baked Sands ($4.89, sale).
Drugstore Hauls from Target. I absolutely love the Rimmel London quads. They have to be my favorite right now for everyday natural wear. I got them in all colors the Smokey Brun is not pictured because I bought it the next day. I bought the Maybelline quad cause I thought the colors were great, but they really aren't Doesn't really pack on that well or blend for that matter. Maybe if I use a better primer. Then, of course my Loreal HIP shadows. Love those for nighttime use or even for the day when you want more dramatic eyes. I actually have two more now than in this picture.
Pictured: Maybelline in Seashore Frosts ($4.99), Rimmel London Color Rush Quads in Smokey Noir, Smokey Purple, Smokey Blue ($3.99 each), and Loreal HIP in Sculpted, Sassy, Glided, Gunmetal and Flamboyant ($5.99 each).
Another day, I was shopping with my mom at the local Ross store and I was in the bag/accessories area, and they had some E.L.F. sets. This one comes with three shadows, false lashes (dramatic), an eyeliner brush and duo mascara. It's to create a dramatic smokey eyes look. They're extremely pigmented which I love. The only thing I didn't understand was the eyeliner brush, I think they made a mistake, and it was supposed to be the eyeshadow brush. Hmm.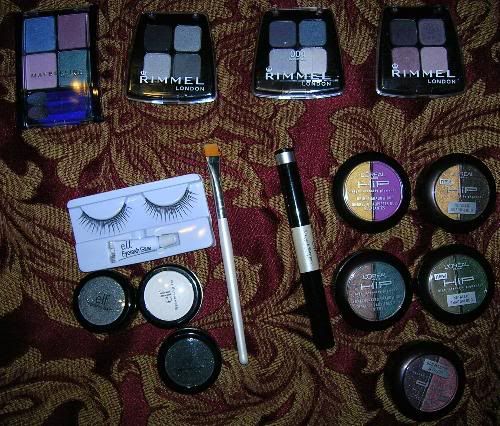 Pictured: Same Loreal HIP, Rimmel, and Maybelline shadows. E.L.F. smokey eye set ($5.99)