Here is my current brush collection (with the exception of my back up brushes, of course, which are essentially just doubles and triples of ones I already have.)
These brushes I got at Big Lots for $5 each. The brushes in the travel kit are okay, not great but they'll get the job done with patience. I do, however, love the packaging, quality, and the size of the mirror. It's great for on-the-go make up work. The kabuki brush is amazing. Very densely packed and soft. It also comes with a matching case as the travel set. It's really good deal for just $5. The kabuki brushes at CVS, I believe are $10 and they're not as soft and quite frankly shed a good deal.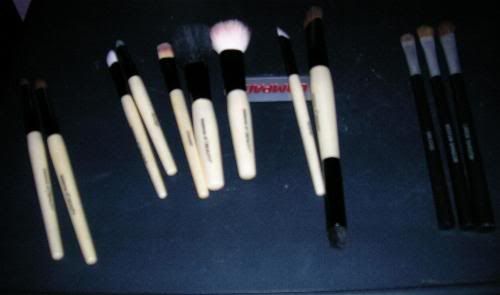 These are CVS essense of beauty brushes and Target brushes. From left to right are my crease bushes, which come in a duo small and big, $5. The second group is actually a travel kit, which comes with a eyeliner brush, smudge brush, concealer brush, powder brush and blush brush, $10. The third set i one of my favorites, it's the smokey-eye wide (or something like that), $6. Great for highlighting. The other end is a crease brush I believe, I don't really use it because it's deformed from the case I store it in. This also comes with a free angled eyeliner brush. The last set consists of my Target buy brushes, which are the ones I use pretty much every day. Packs on lots of color and very soft. They're about $2.50 each at Target.
This is how I store my brushes. I got some ideas off of YouTube for the one on the right. Bought some ribbon and a case then filled it up with clear vase fills (which are not cheap they're like $8 i think. The one of the left is just the case for my Banana Republic 'W' perfume. I like how it looks because of it's curved shape.
And, lastly for tonight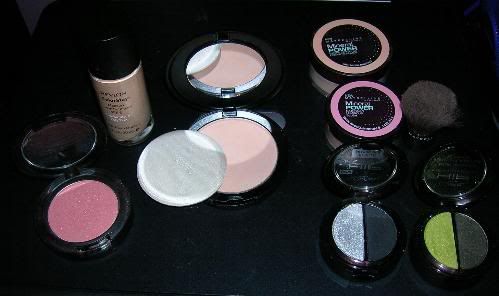 ...are my face products (with exception of the HIP shadows). I normally use Covergirl foundation in Soft Honey (555) (which is about $4) which now I see is way too dark for my face. I'm currently trying Revlon's ColorStay products, which I hear such great things about. The staying power is amazing and blends really well on the skin. The liquid foundation I bought is for oily/combination skin in Warm Golden, and the face powder in Light/Medium. I got a great deal at CVS, they had a Buy One Get One Free (BOGOFree) deal, plus $1 off from the Sunday Paper, so for $12 I got both. To the left is my one and only MAC product for now, Blush in PeachyKeen. I don't use it as much just cause I don't wanna waste it, but it's great. Very pigmented and excellent staying power. I got it like $13 or $14 at COSTCO. Then, the other two Maybelline products which I got at Rite Aid for BOGOFree as well, are their mineral products, $10 for both. Love them as well. The blush is in Soft Mauve, it's lighter than my usual blush, but it looks really natural and lasts all day without any face primer or base. The foundation is in light 3. I think it's a little bit too light for my skin, but maybe since it's winter now, I won't be as dark as I've been this summer. Lastly, are my Loreal HIP shadows, once again another deal at Walgreens this time for BOGOFree plus a $1 off coupon which the cashier gave me, in Platinum and Riotous, paid $6 so they came out to be $3 each. What a deal!
So that's it for now. I'll try to get some of my looks that I've done, and the products that I've missed.
Till next time...