So as per my last blog, I was gonna go to rite aid to take advantage of their BOGOFree of Loreal/Revlon...but, I forgot their sales end Thursdays not Saturdays, so BOOO i didn't get to. However, I found some good deals with their Almay products, which was BOGOFree, plus I had a $1 off coupon from a past Sunday paper. I absolutely love these products, for $7 with tax and everything for both was amazing. I love the pink and the beige (which i use for highlight). I've been looking for a soft pink that still shows on my lids. The lipgloss is amazing, it has a funny taste at first but I think it's the avocado flavor or whatever. It is also a little bit minty as well, the color and stay power is just great.
Pictured: Almay: Intense i-color in 'trio for hazels' swatch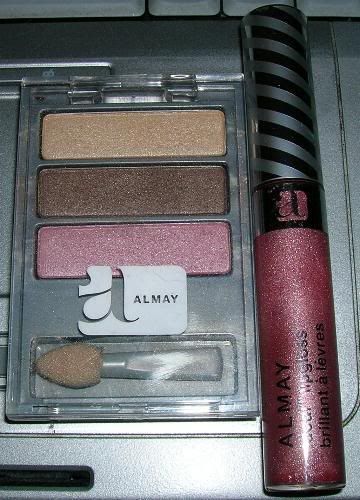 Pictured: Almay: Intense i-color in 'trio for hazels' & Almay ideal lipgloss in 'pink shimmer'
I also did a walmart haul for my nails. They been splitting a lot lately I think from my ELF polishes, which I'm not gonna use anymore (gah!). I love the Gold Star because it comes in a nice size, much smaller than regular nail polishes, which is good because most my polishes just dry out. I use it to add glitter to my cream polishes.
Pictured: Sally Hansen 'Hard as Nails' in Natural Tint, Rimmel's 60 seconds in 'Frisky Clover' and 'Climax', and Petites in 'Gold Star'
I went to a local mall and they had NYX lipsticks for $1.50. How exciting that was. I've always wanted to try their lip sticks with all the reviews I've seen on YT. My favorite are the first two, they're a great shade of pink, and the staying power for that price is amazing. I tried out the 'Electra' on just for fun, and when I tried to remove it, it was relentless, it would not come off. Haha! So that's awesome!
Pictured: NYX Lipsticks in 'Jupiter', 'Georgia', 'Electra' and 'B52'. shad
Another haul was my drugstore haul at Walgreens and CVS. CVS was having once again their BOGOFree of Revlon plus some clearance merchandise. I had a coupon for Loreal HIP's Jelly Balm for $5 off from walgreens, so I grabbed one in Plush.
Pictured: Loreal Hip Jelly Balm in 'Plush', Revlon ColorStay in 'White Whisper', and Revlon ColorStay Quads in 'Neutral Khakis' and 'Azure Mist'.
Pictured: 'White Whisper' swatch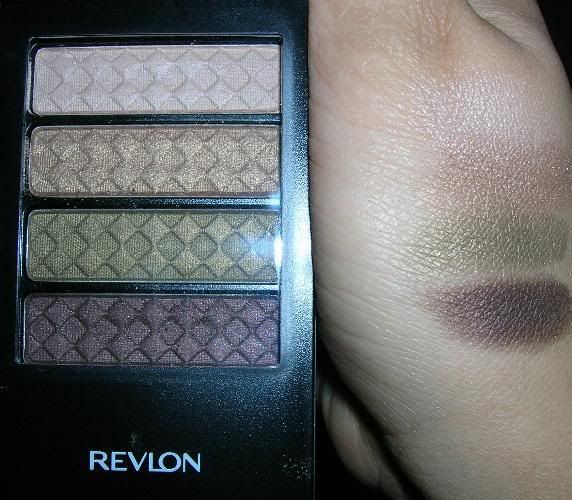 Pictured: 'Neutral Khakis' swatch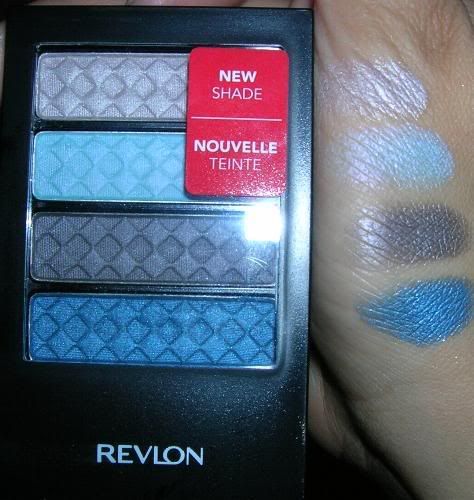 Pictured: 'Azure Mist' swatch
And my latest haul from yesterday. I'm so excited about this one because I got AMAZING deals at Target. They had a lot products on clearance including a small 0.17oz sized Juicy Couture perfume (LOVE LOVE LOVE!). Also, I included my little haul from Vegas' CCO.
Pictured: Revlon Luxurious Color Eyeliner in 'Antique Gold' (originally $8.59, got it for $2.14), MAC Paint Pot in 'Fresco Rose' ($12), Neutrogena Mineral Sheers in 'Clay' and 'Stone' (originally $6.89, got it for $1.82 each) and Sally Hansen No Chip 10 Day Color in 'Pink Persuasion' (originally $3.74, got it for $0.93)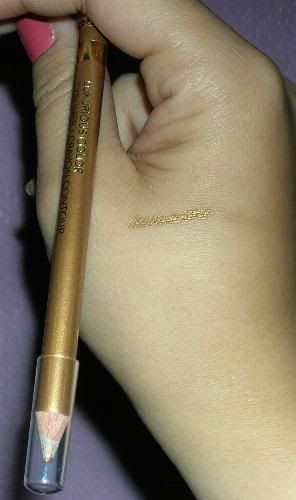 Pictured: Swatch of 'Antique Gold'
Pictured: Swatch of Neutrogena Shadows in 'Clay' and 'Stone'